CommuniTea and Conversation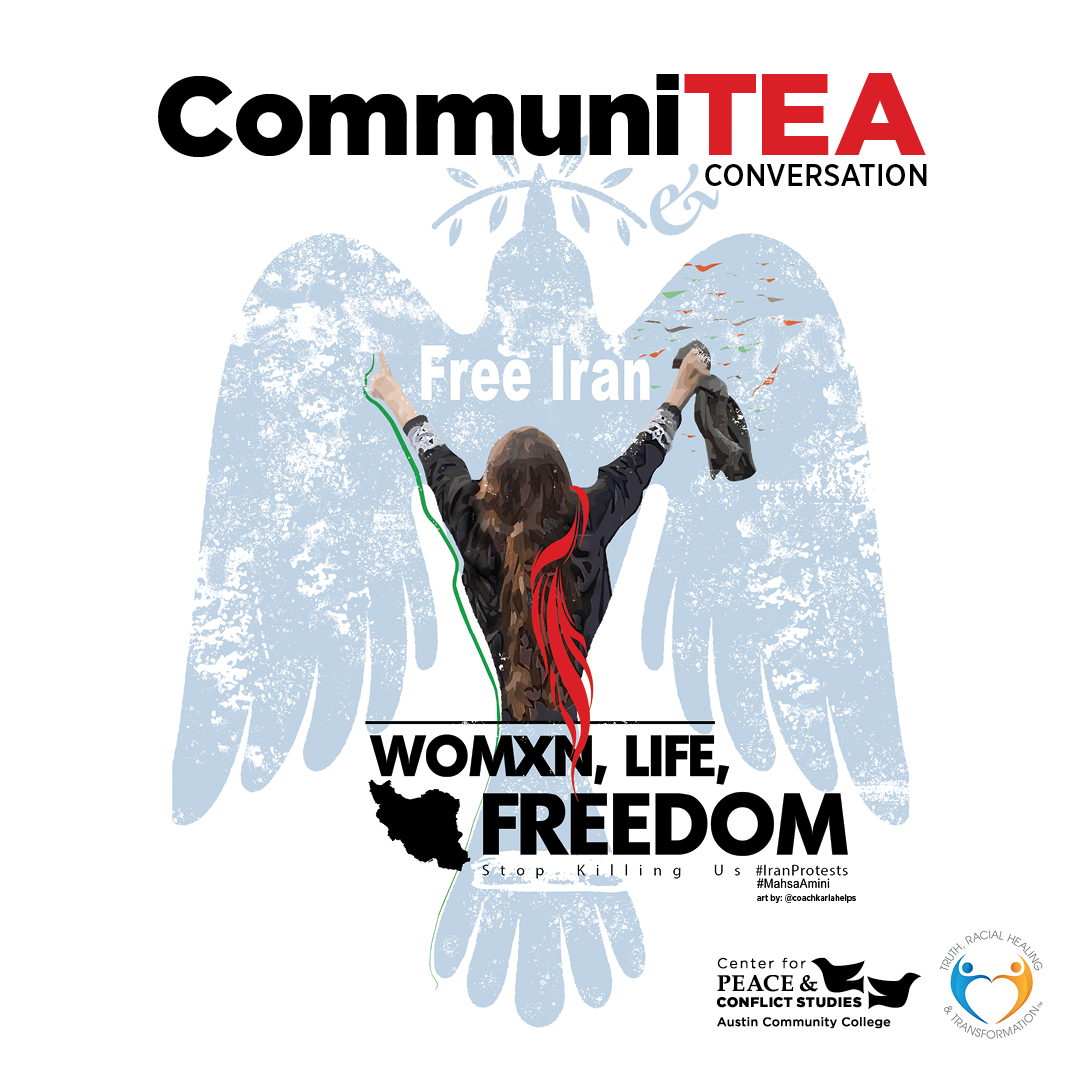 Please join us for a series of gatherings aimed at supporting our Iranian Riverbats and others in our community with ties to Iran. These gatherings will provide a space for those impacted by the political violence in Iran to come together, build community and collective empowerment, and process the challenging developments taking place inside Iran. Each event will feature Persian tea and sweets, live music, and facilitated dialogue and activities aimed at processing the collective trauma that is impacting the Iranian community at large.
Free & open to the public.
art by: @coachkarlahelps
Wednesday, April 26th from 4 - 5:30 PM
Our final CommuniTEA gathering of the semester we will be joined by Anousha Shahsavari who will share a slide show presentation of art inspired by the Woman, Life, Freedom movement and then lead participants through the process of creating their own individual paintings. Please join us for an afternoon of art, music, tea, and sweets.
This event will take place on Wednesday, April 26th from 4 – 5:30 PM.
1212 Rio Grande Street | Building 1000, Room 1103 (Multipurpose Room) | Austin, Texas 78701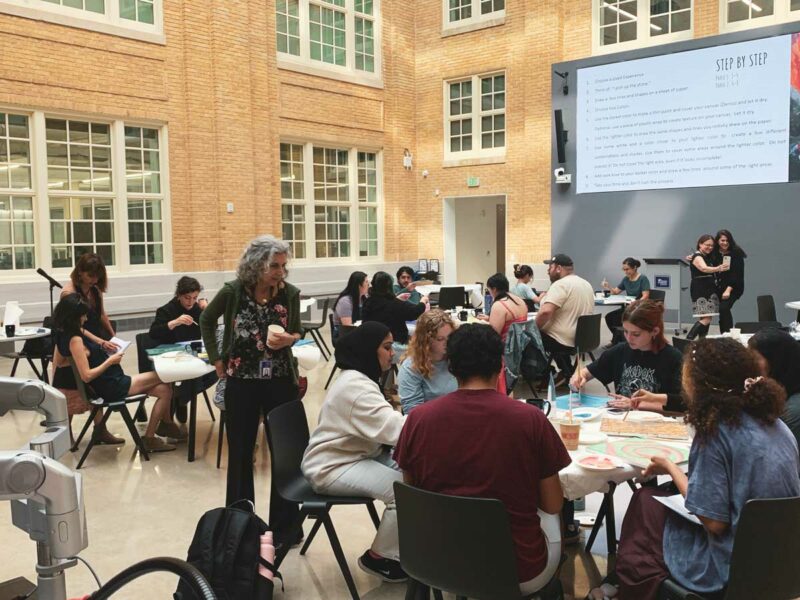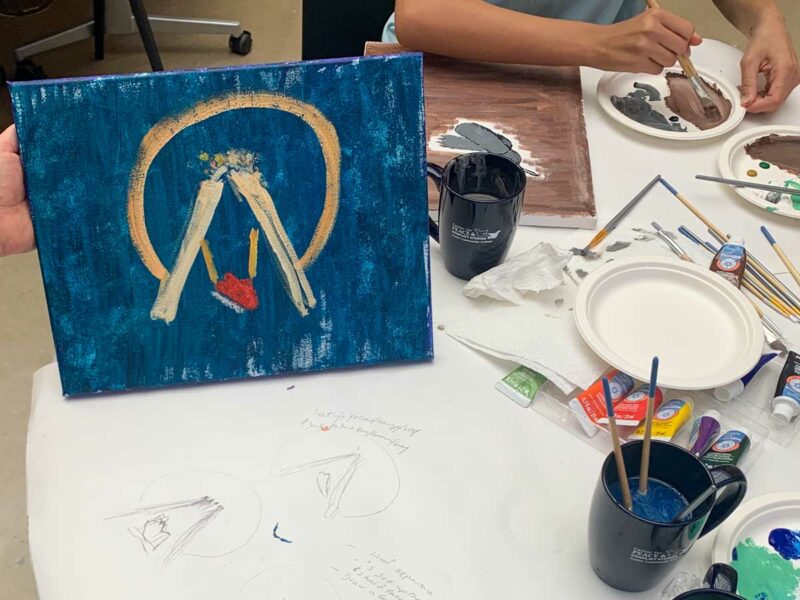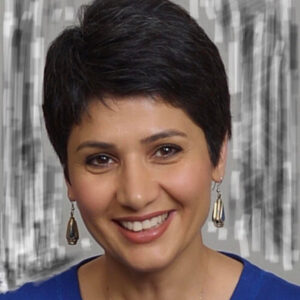 Anousha Shahsavari, born and raised in Iran, based in Austin, holds both an MA in Applied Linguistics -Teaching Persian to the Speakers of Other Languages from Shiraz University and an MA in Second Language Acquisition and Application from the University of Maryland at College Park. She taught Persian and ran Persian Programs for more than 15 years in different universities. She now works with FHI360, where she uses her skills to improve people's lives. Anouhsa runs PersianConversation.Com, where she is still in touch with Persian learners. Check her books "Persian of Iran Today," a podcast she developed "ZirNevis,' and a few series she produced including Cafe Denj series, and Life of Shirin, if you are interested in learning Persian or you are working on your Persian!
At the age of 18, Anousha commenced her artistic journey in painting, which has now become an integral part of her life. With a few years of professional painting experience under her belt, she received a few accolades for her watercolors, primarily at the state level in Iran. Anousha skillfully blends her passion for literature and storytelling with her adeptness in colors and forms to produce unique works of art.
Friday, February 24, 2023 from 5:30-7:00 PM
In this session, Iranian poet Roja Chamankar will conduct a reading and poetry workshop for those in attendance.
TRHT Center 6101 Highland Campus Dr. | Building 4000, Room 4.2205 | Austin, Texas 78752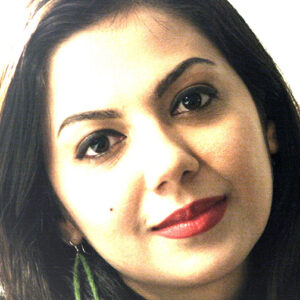 Born in Borazjan in southern Iran in 1981, Roja Chamankar is a poet and filmmaker with an academic background in Dramatic Literature and Film Studies. She has published eleven books of poetry in Iran, co-written four books for children, and translated two collections of poems from French into Persian. Her works have been translated into several other languages and have won a number of national and international awards, including the Greek Nikos Gatsos prize in 2016. Roja has participated in numerous poetry readings and festivals in Iran, France, Sweden, Austria, Malta, and the United States. A collection of her poems titled Dying in A Mother Tongue is published in November 2018 by the University of Texas Press.
Friday, January 27th, 2023 from 5:30-7:00 PM
In this session, participants will have an opportunity to come together and engage in yoga practice for stress reduction. This session will be led by Persian-speaking, Iranian American therapist Geeti Shirazi Mahajan.
TRHT Center 6101 Highland Campus Dr. | Building 4000, Room 4.2205 | Austin, Texas 78752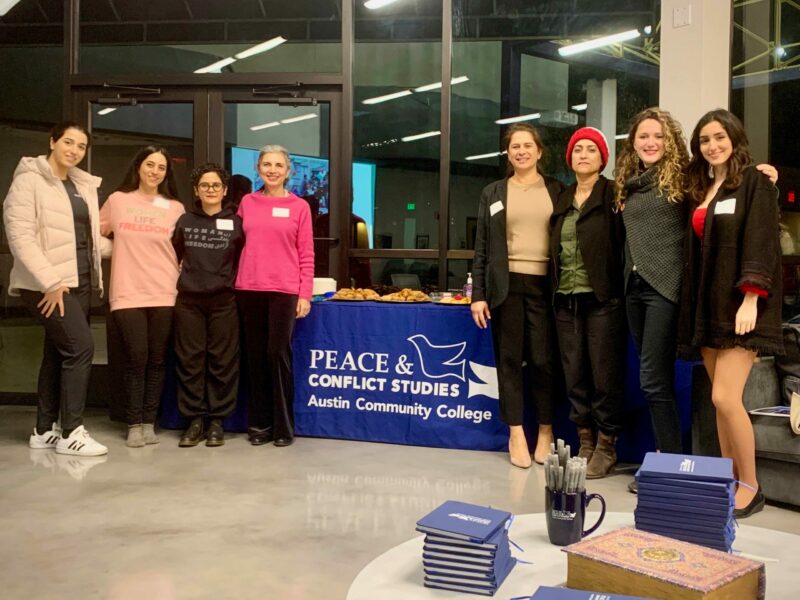 Geeti is a Registered Yoga Teacher (RYT500), a Trauma Informed Yoga Teacher (TIYT), and a Certified Yoga Therapist (C-IAYT). She specializes in serving those with mental health needs.
As a biracial Iranian-Indian American, Geeti grew up with the influences of Islam and Hinduism, and was exposed to diverse contemplative practices early in life.
Geeti's first introduction to a mind, body, spirit practice was through 15 years of classical Indian dance training in Bharata Natyam.
She eventually took her first formal yoga class in college at the age of 19, and was certified as a yoga therapist in the style of Integrative Yoga Therapy more than a decade later.
Since 2012, Geeti has continued to offer yoga to address mental health issues in medical settings, with a focus on working with survivors of trauma.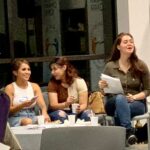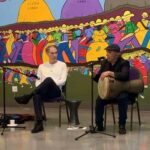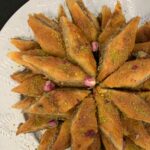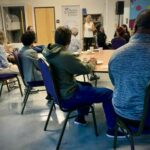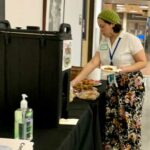 The first of four gatherings took place on: Tuesday, December 6th from 4:30 – 6:30 PM @ the TRHT Center HLC 4000, Room 4.2205
This gathering featured musical guest Mohammad Firoozi, who led us in singing emancipatory anthems, both new and old.
TRHT Center 6101 Highland Campus Dr. | Building 4000, Room 4.2205 | Austin, Texas 78752
Free counseling and guidance
As we continue to learn more about the events that unfolded and we examine their broader social implications, please know that your college is here for you. We offer support and learning opportunities: