Center for Peace & Conflict Studies
Center for Peace & Conflict Studies
Peace & Conflict Studie promotes critical thinking about the individual's role in their community to envision conflict positively. As John Paul Lederach (2003) explains in The Little Book of Conflict Transformation, this process provides an opportunity "for creating constructive change processes that reduce violence and increase justice." In other words, conflict transformation involves imagining positive futures arising from complex problems in our societies.
Our Impact/What We Do
---
Through avenues of academic study, professional development training, community events, service learning, and travel abroad opportunities, the Peace & Conflict Center maintains its commitment to establishing frameworks for nonviolent conflict transformation at the interpersonal, interpersonal, local, national, and international levels.
Center Events
The Center for Peace & Conflict Studies provides opportunities for active engagement in the community through ongoing events, service learning, and international programs. The Center features lectures, panel discussions, a film series, and cultural events that allow students, faculty and staff, and the broader Austin community the opportunity to engage with topics pertaining to social justice, conflict, and sustainable peace.
Upcoming Fall Event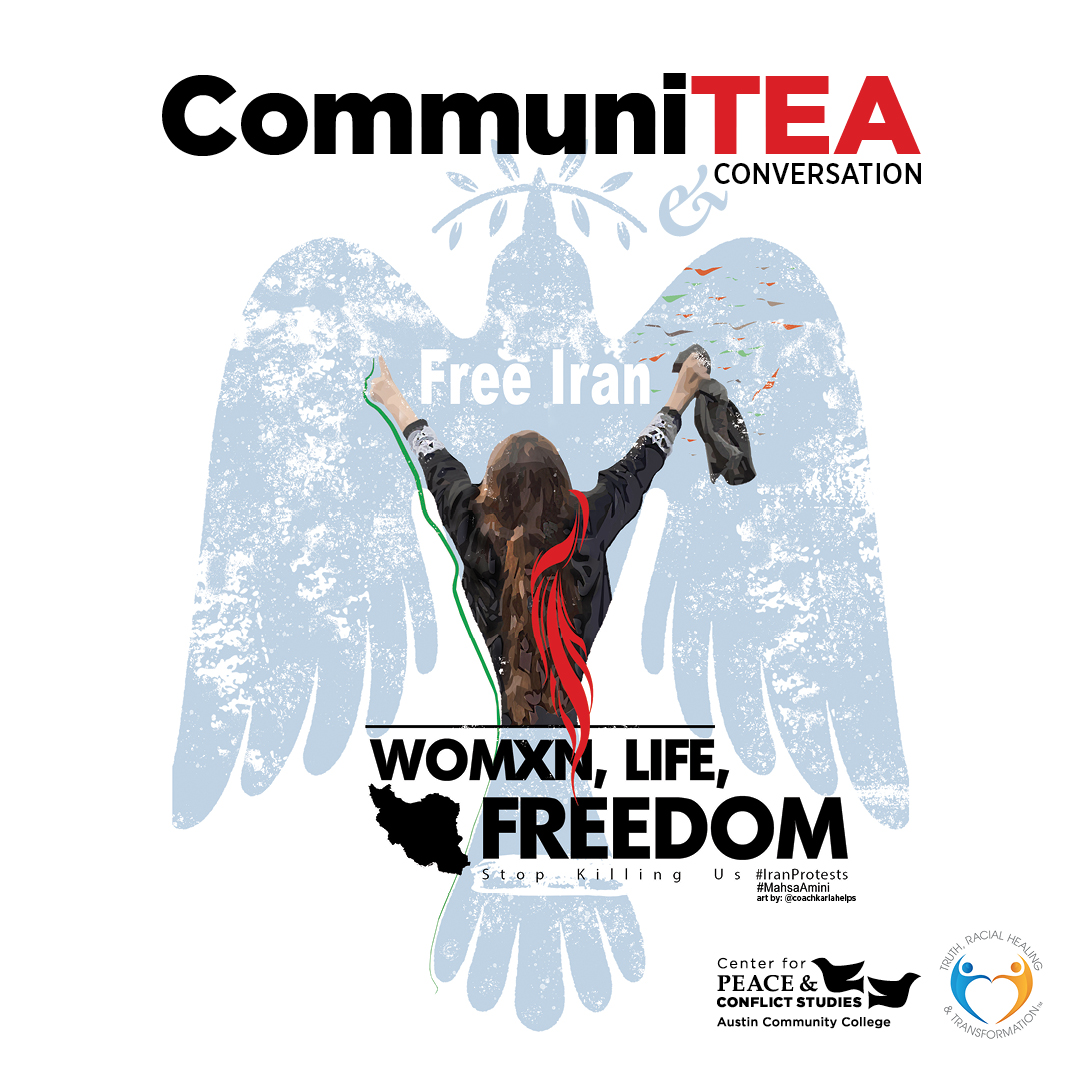 CommuniTEA & Conversation
---
The first of four gatherings will take place on:
Tuesday, December 6th, from 4:30–6:30 PM @ TRHT Center HLC 4000, Room 4.2205
Please join us for a series of gatherings aimed at supporting our Iranian Riverbats and others in our community with ties to Iran. These gatherings will provide a space for those impacted by the political violence in Iran to come together, build community and collective empowerment, and process the challenging developments taking place inside Iran. Each event will feature Persian tea and sweets, live music, and facilitated dialogue aimed at processing the collective trauma that is impacting the Iranian community at large.
Featuring musical guest Mohammad Firoozi, who will lead us in singing emancipatory anthems, both new and old.