Black Male Studies
This page features archival information and video footage from select Philosophy, Religion, and Humanities Forum talks in recent years.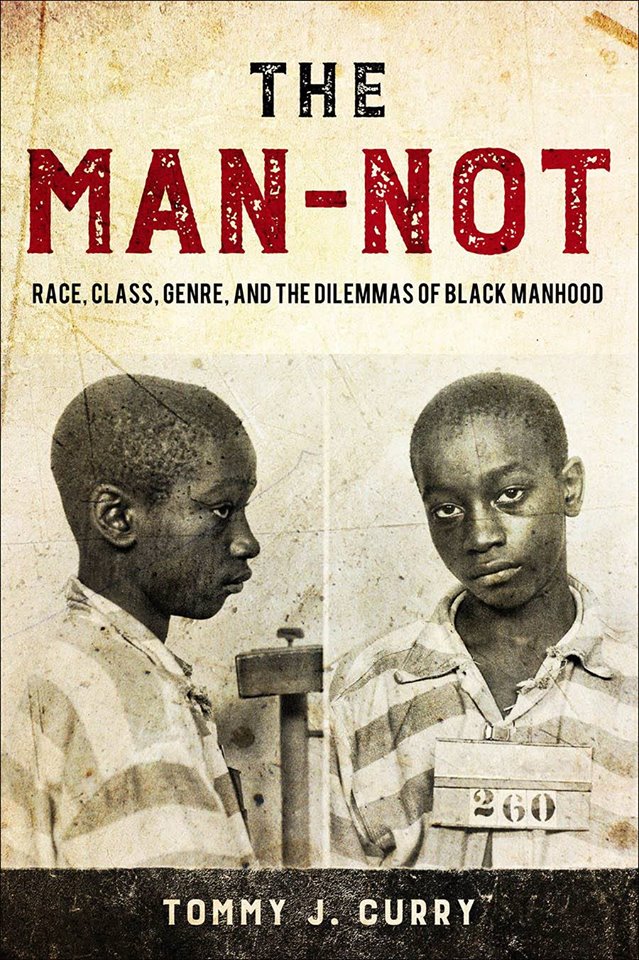 Tommy J. Curry, "Black Male Studies: The Impact of Black Male Vulnerability and Phallicism on Gender-Masculinity Theory"
October 24, 2017
7:00-9:00 p.m.
Eastview Campus 8500
Presenter
Tommy Curry, Ph.D., Professor of Philosophy and Africana Studies at Texas A&M University
Moderator
Matt Watkins, Philosophy Professor
Note:The title of this has talk changed from its original promotional materials.
* * *
America makes corpses of young Black males. We gaze upon these corpses outraged by yet another death, but when Black men suffer—when they are dying—do we hear their voices or demand their silence? When Black men are sodomized by police, or raped by men and women in their own communities as young boys, do we refuse them an audience for their pain.
In The Man-Not: Race, Class, Genre and the Dilemmas of Black Manhood, Dr. Curry insists that "Black male studies begins with…this declaring of Black male life as worthy of study that arrests/suspends the caricatures of current research…and refuses the pathologization of Black men and boys as theoretical advance." Black males are often framed within gender theory as patriarchs, deviants, and perpetrators of sexual violence. As such they are often erased as victims of such violence, and denied vulnerability. Utilizing insights from social dominance theory and genocide studies, Dr. Curry will explain how the concept of The Man-Not explains why the low-level warfare of patriarchal regimes and genocidal logics of white supremacism specifically target Black men and boys in the United States. Dr. Curry will discuss why academics and activists alike have great difficulty in imagining Black males as victims of racist and sexual violence in America, and how this neglect demonstrates the need for a Black Male Studies that analyzes the racist dehumanization of Black males as the pretext to the various sexual violence imposed upon Black males since slavery.
"Tommy Curry has written a cool, brilliant defense of the men who are the pariahs of American society: the ones who, regardless of class, find themselves at the bottom of every hierarchy; the ones whose demographics and statistics in terms of the criminal justice, health care, and other systems are abysmal. Countless billions have been made from the portrayal of Black males as Boogeymen. The Man-Not is heavy work, but the general reader will find its arguments well worth the time and effort. This book is controversial. Those who've dogged and stalked Black men in the academy and popular culture for the past few decades are sure to have their critical knives out. I know. But it's rare for an American intellectual to step up, regardless of the fallout. This book is the one that I've been waiting for. Curry has taken a bullet for the brothers." —Ishmael Reed, Professor Emeritus at the University of California, Berkeley, and Visiting Scholar at the California College of the Arts.
Dr. Tommy J. Curry is a Professor of Philosophy and Africana Studies at Texas A&M University where he held the prestigious Ray A. Rothrock Fellowship 13'-16' and is now the USC Shoah Foundation 16'-17' & A.I. and Manet Schepps Foundation Teaching Fellow. Dr. Curry is the current President of Philosophy Born of Struggle, one of the oldest Black philosophy organizations in the country. He is the author of over sixty articles and book chapters on racism, Critical Race Theory, Hip-Hop and Black male vulnerability. His public commentaries on topics ranging from Hip-Hop to the death and rape of Black men and boys and regenerative stem cell treatments, which have appeared on venues such as Forbes.com, NPR, Salon.com, and Sirius XM has recently been recognized by the Society for the Advancement of Philosophy's Alain Locke Award for public philosophy.
Dr. Curry has authored The Man-Not: Race, Class, Genre, and the Dilemmas of Black Manhood on Temple University Press (2017) which analyzes the sexual and erotic drives behind Black male death and rape, and Another white Man's Burden: Josiah Royce's Quest for a white Racial Empire on SUNY Press (2018), and edited The Philosophical Treatise of William H. Ferris Selected Readings from The African Abroad or, His Evolution in Western Civilization with Rowman and Littlefield (2016). He is currently co-editing (with Daw-nay Evans) the forthcoming anthology Contemporary African American Philosophy: Where Do We Go from Here on Bloomsbury Publishing, (2019). He is currently working on a book series invited by Temple University Press tentatively titled Black Male Studies: A Series Exploring the Paradoxes of Racially Subjugated Males, and editorial projects attempting to publish the lost manuscript and writings of Black Panthers like Eldridge Cleaver.
Return to the main page to watch past events from the Philosophy, Religion, and Humanities Forum.