Beauty, Truth, and Education
This page features archival information and video footage from select Philosophy, Religion, and Humanities Forum talks in recent years.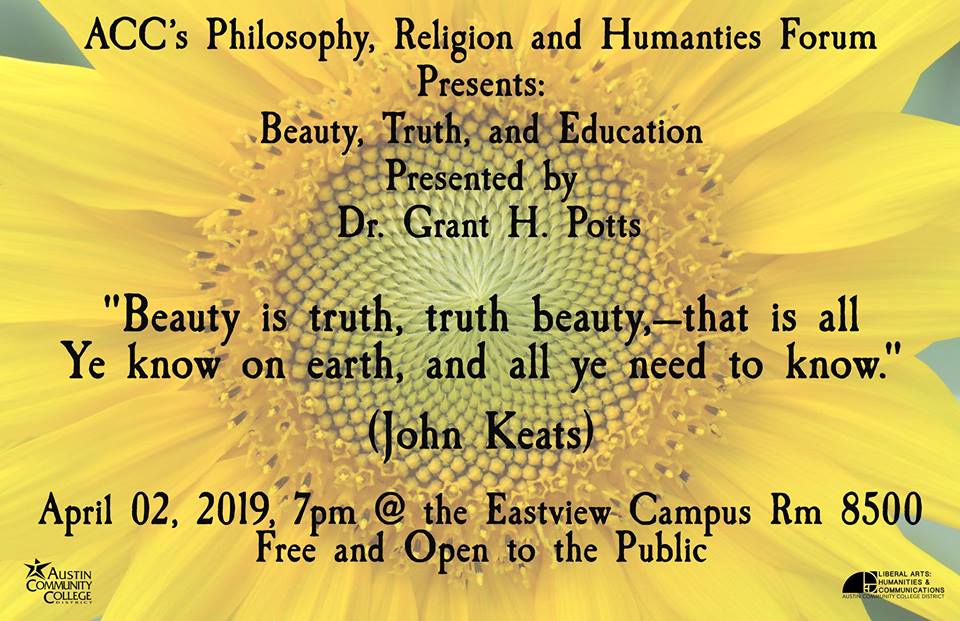 Grant Potts, "Beauty, Truth, and Education"
April 9, 2019
7:00-9:00 p.m.
Eastview Campus 8500
Presenter
Grant Potts, Philosophy and Religion Professor, Department Chair of Philosophy
Modern understandings of truth often see it as opposed to the subjective tastes we associate with beauty and with the arts. But the Western Philosophical tradition has a long tradition, going back to Plato and those who inspired him, of identifying the beautiful with the truth. In this talk, Dr. Grant Potts, Associate Professor of Religion and Philosophy at Austin Community College, will discuss this classic relationship between beauty and truth. Drawing on the work of 20th century Philosopher Hans-Georg Gadamer, he will suggest there is an important connection often overlooked in modern ideas of knowing, understanding, and truth, and suggest that a greater appreciation of beauty as a form of truth can inform how we not only think about the nature of truth but of how we approach education.
Return to the main page to watch past events from the Philosophy, Religion, and Humanities Forum.